Travelodge Aylesbury Map
Map of Travelodge Aylesbury - Here is a location map for Travelodge Aylesbury in Buckinghamshire UK.
Map of the Travelodge Aylesbury Buckinghamshire
Travelodge Aylesbury Map: Above you can view a map of Travelodge Aylesbury located in the town centre of Aylesbury, Buckinghamshire.
Visible on this Travelodge Aylesbury map are: Wagamama, the White Hart pub, Aylesbury Waterside Theatre, Waitrose Supermarket, Thame Direct Distribution, University Campus Aylesbury Vale (UCAV), Buckinghamshire New University, the Odeon Cinema, Buckinghamshire County Council Offices, the Grand Union Canal (Aylesbury Arm), the Canal Boat Basin, Agria Pet Insurance, Walton Street, Exchange Street, Old Brewery Close, Highbridge Road, Beaconsfield Road and more.
Use the zoom out button (-) for a wider view of the area around the Travelodge. Click on the small box (bottom right) for a satellite view of the Travelodge Aylesbury.
Address: Travelodge, Exchange Street, Aylesbury, Buckinghamshire, HP20 1AL. Telephone number: 0871 559 1854. Sat Nav postcode: HP20 1AL.
For full information and booking the Travelodge, visit their website here: TRAVELODGE AYLESBURY
Google Street View of Travelodge Aylesbury Buckinghamshire
Above you can see a Travelodge Aylesbury street view (Google), showing the hotel beside Waitrose Supermarket when approaching from Exchange Street in Aylesbury.
Photos of Aylesbury - The Travelodge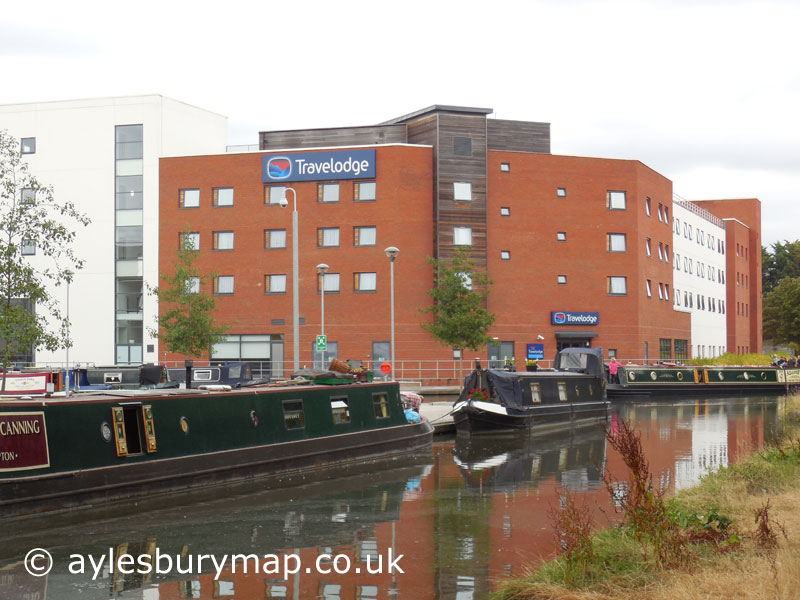 This image of the Travelodge Aylesbury was taken in 2018 from the canal boat basin.
More Aylesbury Maps:
Check out the weather in Aylesbury here: WEATHER
>>>>> BACK HOME
Travelodge Map - Travelodge Address - Travelodge Telephone Number - Travelodge Street View