Aylesbury Churches Map
Map of Aylesbury Churches - Here is a location map for churches in Aylesbury, Buckinghamshire UK.
Map of Aylesbury Churches Buckinghamshire
Aylesbury Churches Map: Above you can view a map of various churches located in Aylesbury, Buckinghamshire.
Visible on this Aylesbury Churches map are: St Peter's Church, St Clare's RC Catholic Church Aylesbury, Victory Pentecostal Church of God, Aylesbury Vineyard Church, Aylesbury Methodist Church, Aylesbury Vale Community Church, St Joseph's Catholic Church Aylesbury, Holy Trinity Church Walton, Limes Avenue Baptist Church, Church of the Holy Spirit, Church of the Good Shepherd, Our Lady of Lourdes, Oaks Community Church, Aylesbury Seventh Day Adventist Church, St Mary's Church, Aylesbury Spiritualist Church and more.
Use zoom in (+) for more churches ie Southcourt Church, Guardian Angels RC Church and New Testament Church of God. Click on the small red balloons to get addresses and contact details for each specific Aylesbury church.
Google Street View of Aylesbury Churches Aylesbury
Above you can see a street view (Google), showing the Walton Holy Trinity Church in Walton Street, Aylesbury, Buckinghamshire.
Photos of Aylesbury - St Mary's Church Aylesbury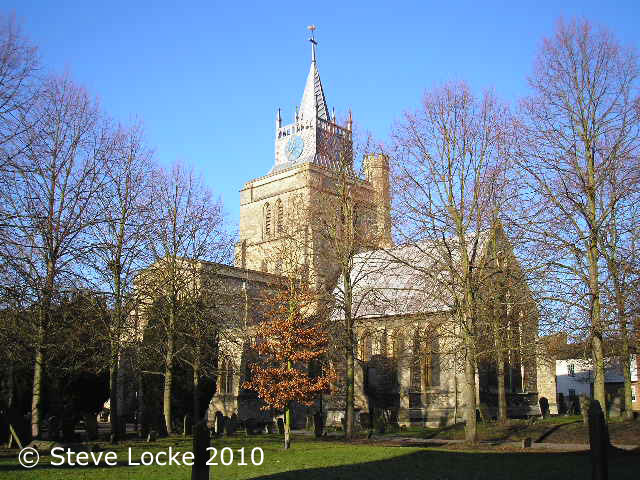 This image of St Mary's Church in Aylesbury was taken in 2010.
More Aylesbury Maps:
Trades: Air-Con - Cat Flaps - Garage Conversions - Loft Conversions
>>>>> BACK HOME
Churches in Aylesbury - Church Addresses - Find any Aylesbury Church