Cambridge Street Map
Map of Cambridge Street Aylesbury - Here is a location map for Cambridge Street in Aylesbury, Buckinghamshire UK.
Map of Cambridge Street Aylesbury
Cambridge Street Map: Above you can view a map of Cambridge Street located in Aylesbury, Buckinghamshire.
Visible on this Cambridge Street map are: Sainsburys, Hale Leys Shopping Centre, KFC, Currys PC World, Aldi, Marks and Spencer, Wilko, Argos and more. Zoom in (+) to see the Harrow pub, Tilly's, Xtensions, Baldy's, Fabrikay, Cafe Monroe, RSPCA Shop, Palm Tree Caribbean Takeaway, Peri Peri Original, Dreamz Dessert, Freshcut Barbers, Hampden Veterinary Hospital (Vets), Anchor Lane Car Park, Dominos Pizza, Magnet, Subway, Vape Aylesbury, Sam's of Aylesbury, Sun Sun, Bathstore, Body Flex Gym, Greggs, Bella's Cakes Cafeteria, Tasty Bites and more.
Use zoom in (+) for more detail on Cambridge Street. Zoom out for a wider view of the Cambridge Street area. Click on the small box (bottom right) for a satellite view of Cambridge Street, Aylesbury.
Google Street View of Cambridge Street Aylesbury
Above you can see a Cambridge Street street view (Google), showing the town end of the road by the Harrow Inn, looking towards Bierton.
Old Photos of Aylesbury - Cambridge Street in the 1970's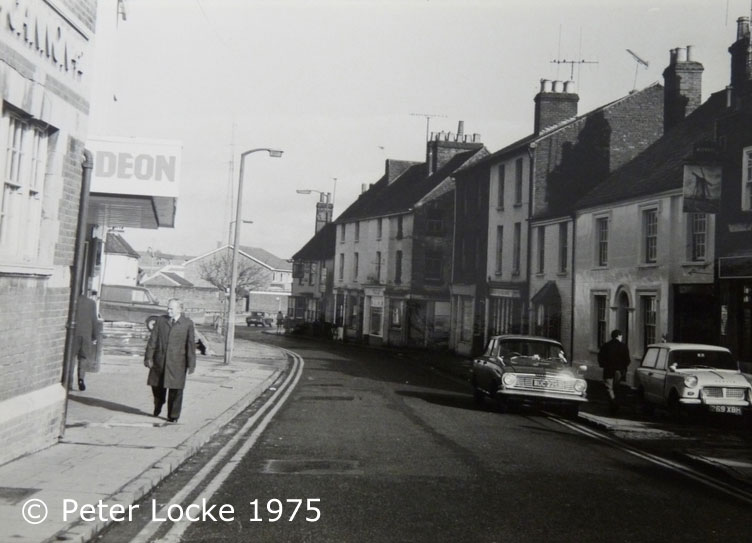 The image above is of Cambridge Street during the 1970's. Visible are the Odeon Cinema, the Windmill pub and the Nags Head pub.
More Aylesbury Maps:
>>>>> BACK HOME